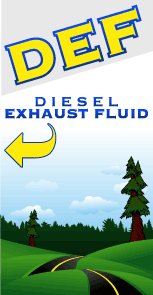 We're excited to announce the availability of Diesel Exhaust Fluid (DEF) at the pump at our Arcata CardLock site. It will also be available at the pump on March 1st, 2013 at our Eureka-Del Norte St. and Scotia sites. It is still available in 2.5 gallon containers at our retail sites in Eureka, Fortuna and Garberville.
California Legislation: In January 2010, diesel emissions legislation was enacted in the state of California after it was proven that diesel fuel emissions are hazardous to public health. This legislation requires NOx emissions to be broken down into nitrogen and water. This was achieved by requiring the use of DEF in newer diesel vehicles.. DEF is a mix of 67.5% de-ionized water and 32.5% urea. It is used in conjunction with selective catalytic reduction technology. It is sprayed into the exhaust and combines with a catalyst to break NOx down into nitrogen and water.
DEF is:
Non-toxic and non-polluting
Non-flammable
Stable and colorless
Non-hazardous
Does not require special handling
DEF comprises approximately 2% of fuel consumption. For example, ff you consume 100 gallons of diesel, your DEF consumption will be approximately 2 gallons. Dose rates could vary by manufacturer, but 2% is the average.
You will not want to run out of DEF! Low DEF levels will result in noticeably reduced engine performance until DEF is replenished.
Until now, DEF was only available in gallon jugs at our three retail sties in Humboldt County. You can now purchase it in bulk at our three of our CardLock sites.